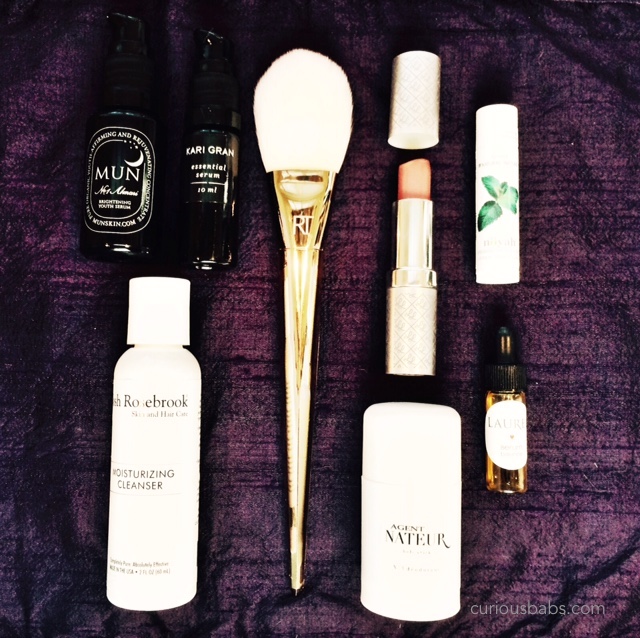 Hi Everyone! Another month has gone by and Spring has sprung here in California. It's so nice to see all the flowers in bloom and the bright green leaves starting to grow back on the barren tree branches. I've been making a concerted effort to work through products I already have opened. New products await which serves as great motivation. I'm trying my best to abstain from new skincare purchases which is so hard! I did pick up several new natural cosmetics over the past 6 weeks so stay tuned  for a future blog post to learn about what products I'm loving this Spring. This post is an overview of my natural beauty favorites from Feb. 2015 along with a few empties.
Real Techniques Bold Metals 100 Brush – This brush works great for loose or pressed/finishing powder. l Iove how weighty it is and how it feels in my hand. The bristles are super soft with just the right amount of give to gently pat product on the face without moving your makeup around. It cleans like a dream and dries really fast. $25.99 Find it here
Lily Lolo Lipstick in Love Affair – I kept this lipstick in my purse last month so it was my Go-To in February. Lily Lolo describes the color as a "dusty, brown pink" and it's perfect for every day of the week, work or play. It's easy to apply, very moisturizing. It has so much shine, you don't need to carry a separate gloss. $17.98  Find it here
Agent Nateur Deodorant – I found out about this deodorant from the lovely Britanie, author of the Beauty by Britanie blog. It's such cute little product, glides on like a dream and really performs. $11  Find it here
Nuyah Lip Balm in Spearmint – This has become a nightstand staple. I can't get enough of this lip balm including the slight tingle from the spearmint variety. $3.99  Find it here
Laurel Serum in Balance – This was a sample from an online retailer that I enjoyed it last month. It's rich and hydrating. The Balance variety is geared toward combination or skin with break-out tendencies. Since I have normal to dry skin, I plan to try the Sun Damage variety next time. $68  Find it here
Empties
Mun No. 1 Akori Lightening Serum – This is one of the first facial oils I ever tried and set the bar so high for this skincare category. This product contains a minimum number of ingredients, each one of impeccable quality. This is probably the silkiest oil I've ever tried – a real keeper! $95  Find it here
Kari Gran Essential Serum – I've tried so many wonderful serums that I would repurchase in a heartbeat. This one, however, didn't have the right texture to easily massage into the skin and the scent didn't wow me. $35 for the trial set of cleanser, toner and serum.  Find it here
Josh Rosebrook Moisturizing Cleanser – I bought the trial size and used it during my morning shower for gentle face cleansing. I love how it smells (reminds me of freshly baked sugar cookies) and it always puts a smile on my face. I miss it and will repurchase soon. $27 – $50  Find it here
What natural beauty products have you been enjoying lately?